A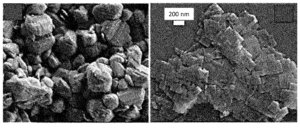 CSN patent entitled "Compositionally and Morphologically Controlled Nanostructures for Delivery of Micronutrients and Suppression of Disease in Agriculture" was issued by the US Patent Office on November 3.
The abstract of the patent is: "Provided are compositions which may be used in agricultural applications. Also provided are methods of making and using the compositions. In embodiments, a plant fungicide or plant bactericide is provided comprising a nano structured chemical compound, the chemical compound comprising a metal and a coordinating anion, wherein the nanostructured chemical compound is in the form of a plurality of planar, two-dimensional nanostructures."
Congrats, Bob Hamers & Jaya Borgatta!