We are delighted to announce that the NSF Center for Sustainable Nanotechnology (CSN) has been renewed to continue advancing our research!
The CSN is highly collaborative, linking 11 universities and two government laboratories, and supporting approximately 70 Ph.D. students, postdoctoral research fellows, and undergraduate researchers in a common goal to understand the fundamental chemistry of nanoparticles in the environment. Meet our amazing team on the "Our Team" page!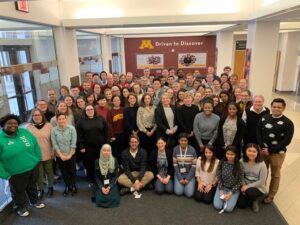 "Naturally occurring nanomaterials, like sand, are things to which our bodies and the environment have adapted," said UW-Madison professor of chemistry and CSN director Robert Hamers. "Engineered nanomaterials have not been in the environment for a long time, so biological systems have not adapted to challenges they present, leaving the potential for greater environmental impacts."
The National Science Foundation (NSF) Division of Chemistry will fund the research for another five years through a $20 million grant.
"The NSF Centers for Chemical Innovation (CCIs) are transforming the way we do science by engaging interdisciplinary, multi-institutional teams to take on grand challenges in the field," said David Berkowitz, Division Director of Chemistry. "The Center for Sustainable Nanotechnology, one of the CCIs, is performing important research that will guide the development of sustainable nanotechnologies, a key element of the industries of the future."
In addition to our focus on science, the CSN is also committed to outreach and workforce development, serving as a strong professional development program for training graduate students, and improving diversity in higher education. Please visit our website to learn more about the CSN's research, education & outreach activities, and diversity and inclusion efforts.
And be sure to check out our Sustainable Nano Blog and Podcast!
Material adapted from UW-Madison Department of Chemistry press release
Additional publicity about the grant renewal: